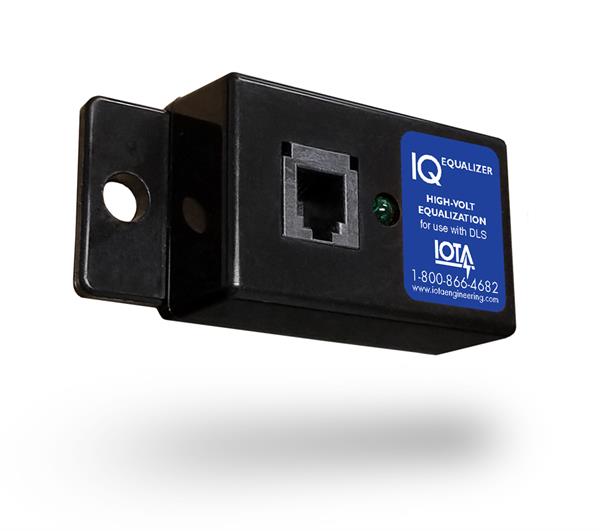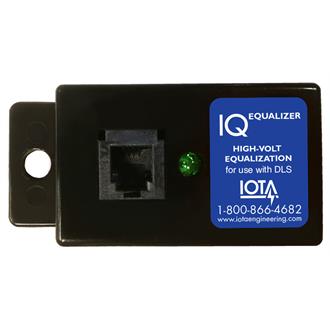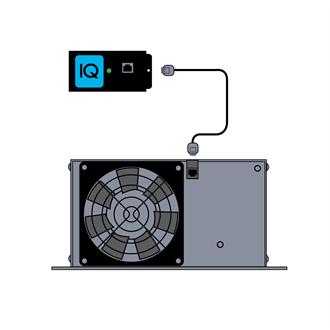 IQ4 EQUALIZER Smart Charge Controller
3-Stage Smart Charge Controller for the IOTA DLS to Provide On-Demand Bulk Charging
By IOTA
The
IQ4 EQUALIZER
is a useful charge control tool that initiates a constant current BULK charge to your flooded lead acid battery, ensuring that all cells receive an adequate, complete charge in an abbreviated timespan. After a predetermined period, the IQ-Equalizer drops into a trickle charge until re-inserted for additional equalization.
Installation
The IQ4 EQUALIZER Smart Charge Controller easily plugs into the Dual Voltage Jack of your IOTA DLS Battery Charger. Once plugged in, the IQ Smart Charge circuitry is automatically engaged and your IQ module will activate. Your DLS will now provide an automatic and trouble free charging profile to your batteries!
Note: External IOTA IQ Smart Charge Controllers are not compatible with DLS units with internal IQ charge controllers.
IQ4 EQUALIZER Charge States
The
IQ4 EQUALIZER
progresses through the following stages while charging your batteries:
| | |
| --- | --- |
| Bulk | The Bulk State charges the battery at the full-rated output of the charger for 2 hours to achieve a full and complete charge. |
| Float | After the Bulk State completes, the IQ drops to the Float state for an indefinite period of time to prevent-overcharging the battery. |
| Re-Initialize | If further equalization is required, remove the IQ-Equalizer and re-insert to re-initialize the Equalization process. |
Read More
Read Less

View Product Availability
| | |
| --- | --- |
| Product Type | Smart Charge Controller |
| Series | IQ4 |
Suggested Replacement Products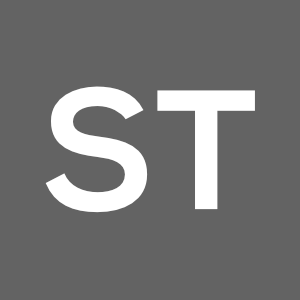 View Stocked Products
Is the new stocked product detail helpful? Please tell us what you think, CLICK HERE.

SKU data not available, please contact your local agent.

{{getMinimumDisplayedIndex()}} - {{getMaximumDisplayedIndex()}} of {{filteredStockedProducts.length}} results

(No Products Found)

{{result.Title}}

{{result.Title}}

{{result.Description}}

Quantity

{{(result.Quantity > 0) ? result.Quantity : 0}} in {{result.Location.substring(result.Location.indexOf("(")+1, result.Location.indexOf(")"))}}

Total at all DCs:

{{result.EnterpriseAvailability}}

Distr. Price

${{result.Price | number : 2}}

Distr. Price

Contact Acuity

Distr. Price

No pricing established

No Locations Could Be Found.

This catalog # is not available at any location at this time. Inventory is replenished daily, please check back or contact your local sales representative or agency further details.

Your session has expired. Click on the login link to view stocked product information.

Login/Register

Product information is not available at this time. Please try again later.

Available
Est. Ship Date
Location
In Transit
{{loc.QUANTITY > 0 ? loc.QUANTITY : 0}}
{{loc.ESTIMATED_SHIP_DATE}}
{{loc.LOCATION}}
{{loc.IN_TRANSIT_QUANTITY}}

Restocking date is unavailable at this time.
Location Est. Restocking Qty & Date
{{transitDetail.QUANTITY > 0 ? transitDetail.QUANTITY : 0}}

{{transitDetail.ARRIVAL_DATE ? transitDetail.ARRIVAL_DATE : "Date Not Provided"}}

Available

{{loc.QUANTITY > 0 ? loc.QUANTITY : 0}}

Est. Ship Date

{{loc.ESTIMATED_SHIP_DATE}}

Location

{{loc.LOCATION}}

In Transit

{{loc.IN_TRANSIT_QUANTITY}}

Restocking date is unavailable at this time.

Location Est. Restocking Qty & Date

{{transitDetail.QUANTITY > 0 ? transitDetail.QUANTITY : 0}}

{{transitDetail.ARRIVAL_DATE ? transitDetail.ARRIVAL_DATE : "Date Not Provided"}}

View All

View Less

Build Cat. # / Submittal Spec Sheet
Start Configurating a Product
Other People Have Also Viewed