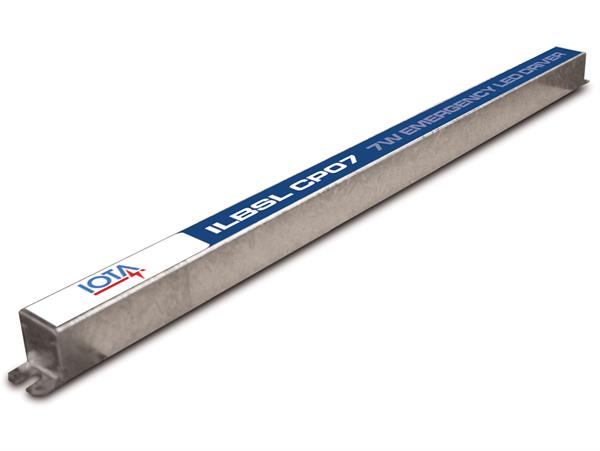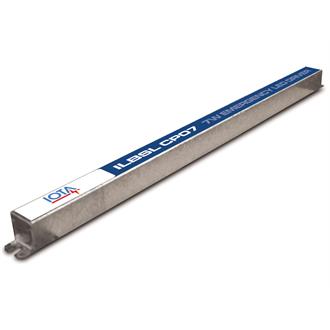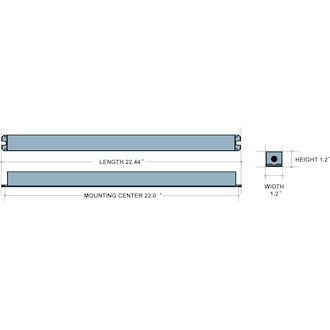 ILBSL CP07 Emergency Driver
7 Watt Constant Power, Slim Profile LED Emergency Driver
Discontinued
By IOTA
This product webpage has been discontinued, please see the suggested products below or contact your local sales representative.
The ILBSL CP07 from IOTA is a
UL Listed LED emergency driver that allows the same LED fixture to be used for both normal and emergency operation.
In the event of a power failure, the ILBSL CP07 switches to the emergency mode and operates the existing fixture for 90 minutes. The unit contains a battery, charger, and converter circuit in a single slim profile can for installation within the channel space or wireway. The Constant Power (CP) design of the ILBSL CP07 maintains the output wattage to the LED array even as system voltage diminishes, providing a consistent illumination level for the full 90-minute duration.
---
LED Operation
7 Watts Constant Power
10-60 VDC Nominal Output
Product Advantages
Slim Profile housing allows integral installation within restrictive and narrow channel spaces of strip and troffer fixtures
UL Listed for field installation
Constant Power Design maintains emergency illumination through 90-minute runtime with no light degredataion
Two-wire universal AC input
Self-sensing output voltage allows the CP Series to operate various product types, such as downlights, troffers or strips, reducing product SKUs for emergency options
Features
UL 924 Listed for U.S. and Canada
UL 1310 Certified, Class 2 Compliant
Long life high temperature recyclable Ni-Cad battery
Galvanized steel case
Includes single-piece TBTS test switch and charge indicator accessory
For use with switched and unswitched fixtures
Meets or exceeds all National Electric Code and Life Safety Code Emergency Lighting Requirements
Rated for use in Plenum, Damp Location, Recessed Type IC, and Enclosed and Gasketed Luminaires
RoHS Compliant
Patented. Visit iotaengineering.com/patents for more details
Read More
Read Less

View Product Availability
| | |
| --- | --- |
| Product Type | Emergency LED Driver |
| Voltage Rating | 120-277 |
| Frequency | 50/60HZ |
| Load Voltage Rating | 10-60 VDC |
| Output Power | 7 Watts |
| Max. Operating Temp. | 55 |
| Min. Operating Temp. | 0 |
| Battery Run Time | 90 min |
| Battery Chemistry Type | NiCd |
| Battery Recharge Time | 24 hours |
| Battery Activation | Unit Connector |
| Life Safety Testing | Manual Testing |
| Regulatory Listing | cUL, NFPA 101 |
| Compliance Listing | ROHS |
| Environmental Listing | Damp Location |
| Series | ILBSL |
Read More Read Less
Suggested Replacement Products
Product Information
Spec Sheets

Guideline Specifications

Technical Documents (e.g. Instruction Sheets, MSDS, CAD)

| Document Type | Document Title | Description | Updated | View | | |
| --- | --- | --- | --- | --- | --- | --- |
| 3D Model | ILBSL CP07 | STEP File - 3D Model of ILBSL CP07 | 7/15/2020 | View | | |
| Accessories | IP67 Test Switch Accessory for Select IOTA Drivers | The IPS is an IP67-rated component purchased separately for select IOTA emergency drivers | 10/27/2022 | View | | |
| Installation Instructions | ILBSL Manual | Installation Manual for ILBSL Models | 9/24/2019 | View | | |
| Material Safety Data Sheet | MSDS for nickel-cadmium drivers and ballasts | Safety Data Sheet for Ni-Cad emergency battery component | 5/12/2021 | View | | |
| Technical Bulletins | Comprensión de la Potencia Constante | Maximiza la seguridad en las salidas de emergencia utilizando potencia constante real (CP) | 4/12/2021 | View | | |
| Technical Bulletins | The Need for Surge Protection | IOTA emergency drivers feature enhanced designs for withstanding exposure to electrical surges. | 4/5/2021 | View | | |
| Technical Bulletins | Understanding Constant Power | Understand the benefits of IOTA's patented Constant Power emergency LED driver design | 2/11/2022 | View | | |
| Wiring Diagram | Dual Negative AC Driver | DWG File - ILB CP with Dual Negative AC Driver | 6/26/2020 | View | | |
| Wiring Diagram | Dual Negative AC Driver | PDF File - ILB CP with Dual Negative AC Driver | 6/26/2020 | View | | |
| Wiring Diagram | Step Down Transformer | PDF File - ILB CP with Step Down Transformer | 6/26/2020 | View | | |
| Wiring Diagram | Step Down Transformer | DWG File - ILB CP with Step Down Transformer | 6/26/2020 | View | | |
| Wiring Diagram | Typical Installation | PDF File - Typical Installation with TBTS Test Accessory | 6/26/2020 | View | | |
| Wiring Diagram | Typical Installation | DWG File - Typical Installation with TBTS Test Accessory | 6/26/2020 | View | | |

Revit Component Files (Non-Illuminated)

Utility Rebate Search

Replacement Parts

Confidential Documents

Marketing Material (e.g. Brochures, Sell Sheets, FAQs, )

| Document Type | Document Title | Description | Updated | View | | |
| --- | --- | --- | --- | --- | --- | --- |
| Application Guide | Cableado del IOTA ILB CP | Pasos rápidos para conectar correctamente un driver de emergencia LED IOTA a su luminaria | 4/12/2021 | View | | |
| Application Guide | Contractor Insider - Auto-Sense | Learn how IOTA Auto-Sense simplifies selecting the proper emergency driver for LED luminaires. | 2/8/2021 | View | | |
| Application Guide | Contractor Insider - Emergency Lumen Output | A quick guide on understanding how wattage correlates with emergency lumen output | 9/15/2021 | View | | |
| Application Guide | ILB CP Lumen Reference Chart | Quickly identify IOTA LED Emergency Drivers that meet your desired lumen levels | 8/11/2023 | View | | |
| Application Guide | ILB CP Wiring Reference Guide | Quick steps for properly adding an IOTA ILB CP LED Emergency Driver to your luminaire | 7/8/2022 | View | | |
| Application Guide | Tabla de Referencia de Lumen de ILB CP | Identifique rápidamente los drivers LED de emergencia de IOTA que cumplen con los niveles de lumen deseados | 4/12/2021 | View | | |

Need Product Assistance? (e.g. How to Buy, Technical Support, Warranty)

How to Buy

The IOTA products are primarily sold through a network of agents and distributors across North America.

• Find an Agent or Distributor

---

Technical Support

The IOTA technical team is dedicated to providing outstanding product support. Please click on the appropriate link below,
or feel free to call us at 855.363.9527.

• FAQs

• Email Us

---

Warranty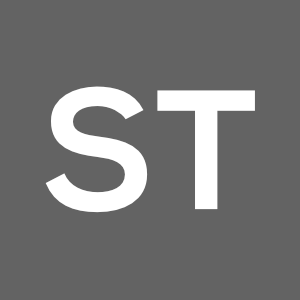 View Stocked Products
Is the new stocked product detail helpful? Please tell us what you think, CLICK HERE.

SKU data not available, please contact your local agent.

{{getMinimumDisplayedIndex()}} - {{getMaximumDisplayedIndex()}} of {{filteredStockedProducts.length}} results

(No Products Found)

{{result.Title}}

{{result.Title}}

{{result.Description}}

Quantity

{{(result.Quantity > 0) ? result.Quantity : 0}} in {{result.Location.substring(result.Location.indexOf("(")+1, result.Location.indexOf(")"))}}

Total at all DCs:

{{result.EnterpriseAvailability}}

Distr. Price

${{result.Price | number : 2}}

Distr. Price

Contact Acuity

Distr. Price

No pricing established

No Locations Could Be Found.

This catalog # is not available at any location at this time. Inventory is replenished daily, please check back or contact your local sales representative or agency further details.

Your session has expired. Click on the login link to view stocked product information.

Login/Register

Product information is not available at this time. Please try again later.

Available
Est. Ship Date
Location
In Transit
{{loc.QUANTITY > 0 ? loc.QUANTITY : 0}}
{{loc.ESTIMATED_SHIP_DATE}}
{{loc.LOCATION}}
{{loc.IN_TRANSIT_QUANTITY}}

Restocking date is unavailable at this time.
Location Est. Restocking Qty & Date
{{transitDetail.QUANTITY > 0 ? transitDetail.QUANTITY : 0}}

{{transitDetail.ARRIVAL_DATE ? transitDetail.ARRIVAL_DATE : "Date Not Provided"}}

Available

{{loc.QUANTITY > 0 ? loc.QUANTITY : 0}}

Est. Ship Date

{{loc.ESTIMATED_SHIP_DATE}}

Location

{{loc.LOCATION}}

In Transit

{{loc.IN_TRANSIT_QUANTITY}}

Restocking date is unavailable at this time.

Location Est. Restocking Qty & Date

{{transitDetail.QUANTITY > 0 ? transitDetail.QUANTITY : 0}}

{{transitDetail.ARRIVAL_DATE ? transitDetail.ARRIVAL_DATE : "Date Not Provided"}}

View All

View Less
Other People Have Also Viewed